At REKKER we are aware of the importance of considering all the elements that make up a kitchen. Proof of this is the special attention that our design team pays to the development of accessories. The aim? To offer solutions for organising and maximising space, combining design and functionality to perfection.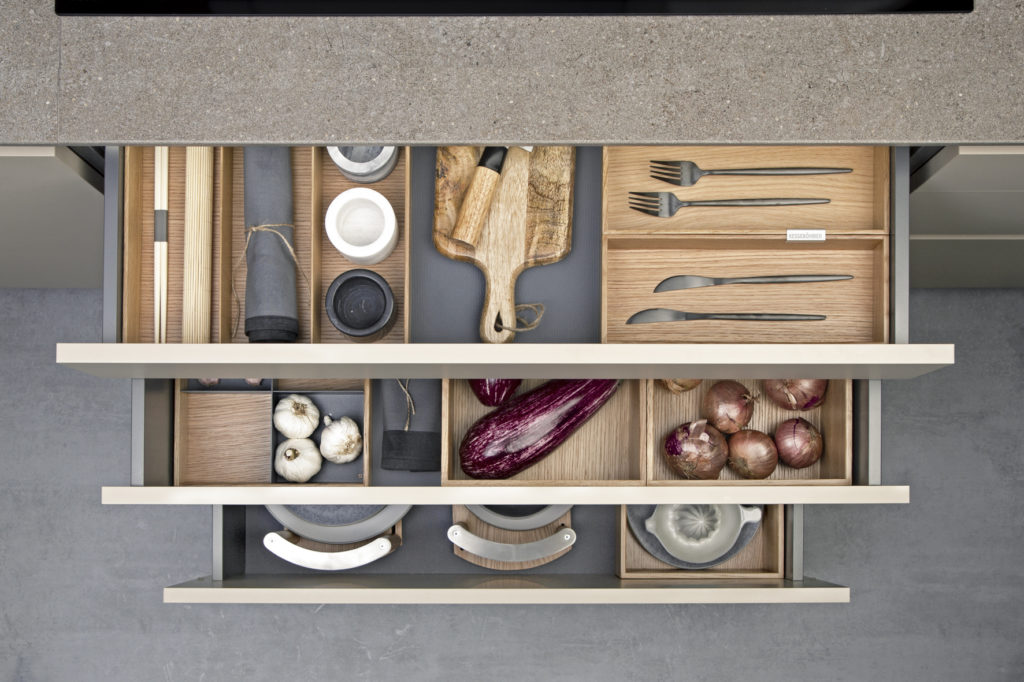 DRAWERS
REKKER offers drawer accessories that allow you to customise the inside of your drawers to suit the needs of your home. These include cutlery trays, spice trays, roll holders and multifunction trays, all of which are removable and interchangeable, allowing for endless combinations to keep kitchen utensils in order.
The KABINEA accessories combine hardwood and metal, while the ROKEN accessories are made entirely of wood. Two models, endless possibilities.
CONTAINER DRAWERS
REKKER accessories for container drawers are your best ally for keeping pots, pans, frying pans and crockery perfectly organised and close at hand. It is worth mentioning that our plate racks with mobile dividers are an ideal solution for arranging all kinds of plates and bowls, not to mention the storage boxes, a multi-purpose organisational element for storing an endless number of utensils.
PANTRY UNITS
REKKER pantry units are characterised by their large storage capacity and accessibility. Their internal structure, which can be extended, makes it easy to see and access all the food stored inside. In addition, models with interior lighting panels become a source of indirect light for the kitchen.
Keeping the pantry organised and tidy? It has never been easier thanks to the KANDEM, KANDEM SIDE, KAVIDO and internal drawer units.
MODULES FOR RECYCLING
Separating household waste can be a challenge. Aware of the importance of small gestures for the conservation of our planet, we at REKKER wanted to make this task easier, hence our large-capacity recycling drawer modules. Designed for convenient and ergonomic waste separation, they are a functional and environmentally friendly solution.
CORNER UNIT
REKKER corner units are characterised by the maximum use of space in hard-to-reach areas such as corners. With their fully removable trays and interior lighting, they maximise space in hard-to-reach corners.
DISPLAY CABINETS
Our display cabinets are an ideal solution that combine functionality and aesthetics to perfection. With a large storage capacity, they ensure tidiness and maximise space in an elegant way. In addition, the backlit rear panels provide an extra highlight while enhancing the impression of depth.
The IKS model incorporates an innovative system of compact, low-profile hinges inserted into the structure of the unit itself.
The result? A display cabinet with a minimalist aesthetic that leaves the sight lines of the unit completely clean and free of any type of hinges and fittings.
The KELAS model display cabinet, crafted with anthracite black trim, stands out for its slanted shapes in the vertical hinges and the minimalist expression in the horizontal ones. They are combined with mirrored glass that allows the interior to be seen while subtly reflecting the exterior.
ALUMINIUM STRUCTURES AND SHELVING
REKKER's structures and shelves, as well as being storage and organisation elements, are a solution that eases the transition to other spaces in the home. The aluminium structures can be combined with shelves of different materials and colours, blurring the boundaries between rooms in an elegant and subtle way.